An aluminum pool fence is always an affordable and beautiful choice. If you are interested in aluminum pool fencing, you can easily find a company to install the fence for you at a reasonable price. Depending on a couple of factors such as budget or passion, you can install the aluminum fence by yourself or hire someone to do it for you. Either way your main goal will be achieved which is to protect your loved ones. You might be wondering why you need a fence on your pool in place of a cover or an alarm. Well you are just about to discover why it's important to use a fence.
One thing that I am sure of is that pool alarms are cheaper but not effective as pool fences. You might not hear the alarm and most of the times it's too late to save your child. When it comes to pool covers, they aren't as effective as pool fences. A pool fence would restrict your child from trying to reach for something at the edge of the pool while the cover doesn't. Now you have it there, so pool fences come in different materials colors and designs. Most recently aluminum fences have become very popular due to some benefits they offer over other materials. Below are some of the benefits.
An aluminum fence creates a stylish atmosphere at the pool area. Since they can be designed in a wide array of styles, it's easier to make the pool area appealing. Moreover, you will find that you have a peace of mind when your kids are playing around the pool. When it comes to durability, you will find that aluminum beats all other materials. Aluminum fences are also easy to manage as they don't require a lot of maintenance.
Another benefit of aluminum pool fences has to be the their strength. Aluminum is known to stand harsh conditions for a long time and still maintain its beauty. The powder coating finish that comes with aluminum pool fences protects the fence from rusting and therefore it can withstand extreme weather conditions. These fences are also easy to install and therefore the cost of erecting them is pocket friendly. Furthermore, there are many designs, styles and sizes to choose from. This gives you a chance to find something that fits your style. With this in mind aluminum pool fence doesn't have to interfere with your landscape.
In a bizarre twist, a 33 year old woman is suing property owner after being impaled by an uncapped
Victorian fence on November 1, 2008. The South Ballarat woman, Ms. Michelle Eggleston, at the time
was drunk and urinating over a wall when she lost her footing and fell. She sustained considerable injury
to her groin, as the fence penetrated her abdomen requiring surgery. According to Victoria's Supreme
Court her lawsuit claims that the fence was poorly put together and that no proper signage warned
individuals of the potential danger. Also part of her claim is that due to the injury she underwent painful
surgeries to repair the damage, suffered post operative depression, and has been unable to work since
the incident. The property owner, her former fiancé, has not commented thus far on the allegations. Ms.
Eggleston's attorneys are expected to bring the case to trial later this year.
For lost cost quality fencing visit our friends at SPFence.net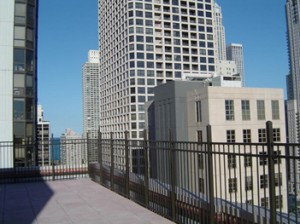 Chicago Steel Fence Installers – SP Fence. This is just one of our more fun projects! Call us for a quote 630-514-2558
Call a Chicago Fence Company for your Interior Cage needs!